Rachel Oddman was getting a ride home from a friend in early 2020 when she noticed a large cloud in the sky. She recalled there was "a grayness in the air." She had a feeling that she should start stocking up on groceries and essentials, although she could not explain exactly why.
Soon after, reports of the 2019 novel coronavirus (COVID-19) spread rapidly across the country and the world. Like most people, Rachel was confused and shocked by the news but the severity of the virus quickly "kicked in."
Rachel, a resident of NYCHA public housing in East Harlem, is in her late 60s. Although she lives alone, she has always been very involved in her community and enjoys a host of activities that keep her engaged and social. For many years, Rachel has also been a member of the Covello Senior Center where she sang in the choir, participated in choreography classes, and designed outfits to raise money for the sewing program. When the pandemic hit New York City and the senior center shut down, Rachel lost the ability to see her friends, church congregation, and family on a regular basis. While she resolved to not let the emotional and social impact of the lockdown affect her, Rachel could not help but notice how other seniors around her were increasingly stressed, having trouble sleeping, and wondering when the local church and the senior center would reopen.
When the city shut down in early March 2020, many New Yorkers turned to Zoom to stay connected during quarantine. Rachel did not have this option as she has never owned a laptop or a tablet and is not familiar with video conferencing. And she is not alone. Reports have found that nearly 22 million seniors in the United States do not have access to wireline broadband in their homes. This digital divide has made the social, emotional, and physical tolls of social distancing especially difficult for low-income seniors who were already vulnerable before the pandemic.
Recognizing this challenge, Public Health Solutions' (PHS') East Harlem Village Network (EHV) stepped in to find a solution. The network connects individuals who are aged 65+ and living in public housing in East Harlem with nutritious food resources, senior services, health insurance, benefits, and health care services. In December 2020, the network launched the Get Connected pilot program which provides tablets, internet access, and technology training to members so that they can safely access groceries, medicine, medical and vaccination appointments, and interactive classes during COVID-19.
Rachel was one of the first seniors to receive a tablet through the Get Connected program and get trained with PHS' EHV Program Manager, Daphne Brown. "The hardest part of the technology training was learning how to set up the computer," admitted Rachel. She was nervous about using technology but was an eager and attentive student. Daphne recalled, "During our one-on-one training, Rachel came prepared with a pen and pad to take notes on how to complete different tasks on the tablet. Even though it was challenging to conduct this training virtually, I moved at Rachel's pace, allowed her time to ask clarifying questions and walked her through individual tasks."
"Once I was comfortable using the technology, there was no stopping me," Rachel beamed. She has said the technology and training has improved her quality of life and created a strong sense of community during the pandemic.
"Once I was comfortable using the technology, there was no stopping me."
Ever since she received the tablet, Rachel's favorite feature has been the virtual senior center (VSC) which enables seniors to participate in a range of activities and interactive classes. She said, "I love having company on VSC, seeing another person… it's like they're right there with me!" She has particularly enjoyed courses like tai chi, computer training, Bible history, skin care, and art and has even participated in a virtual travel program. "I've been all around the world during COVID; I didn't even have to have a passport," Rachel exclaimed.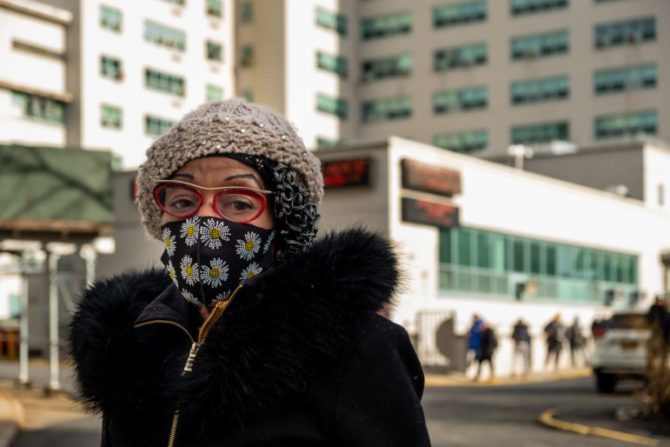 Through the Get Connected program, Public Health Solutions is leading the way in addressing the digital divide among low-income seniors living in NYCHA housing. Learnings from the pilot program will be used to expand the program to an additional 350+ seniors in 2021. Rachel is committed to helping other seniors learn about the program. "Having this opportunity has changed my life," she says. "Other people also need to know that there's help out there."
Your commitment to our work helps seniors like Rachel get the support they need. With your gift, we can expand the Get Connected program to reach more seniors. Make your contribution today.