Overwhelming majority of Black, Hispanic, and Asian Low-Income New Yorkers are Worried About Running out of Money in the Next Month, New Survey Finds
.
[NEW YORK, NY – May 11, 2020] – A new survey from Public Health Solutions, a New York City nonprofit addressing health equity, uncovered low-income New Yorkers' concerns about their ability to afford essential expenses as the coronavirus pandemic persists – which will likely have long-term effects on health. Defining low-income as an annual household income of less than $50,000, the survey found that 82% of black, 92% of Hispanic, and 95% of Asian low-income respondents are worried about running out of money in the next month. Low-income respondents across ethnicities are concerned about getting enough food (76%), paying the rent or mortgage (66%), paying for medical costs (63%), paying for utility bills (69%), and paying off debt (69%).
The survey, conducted online by Kantar, reached 1,000 New York City adult residents from varying income levels across all five boroughs. The findings reveal the financial difficulties plaguing low-income New Yorkers are particularly dire among communities or color and in certain boroughs. As food pantries shutter and the New York City eviction moratorium gets extended until August, these results show that New Yorkers need long-term help keeping their heads above water.
Among all low-income respondents, the survey found:
When asked about their top concern over the next month, more than one-third (35%) said they were most worried about getting enough food, followed by paying the rent or mortgage (25%).
27% have applied for or utilized SNAP in the last month. 13% utilized food pantries or soup kitchens, and 14% applied for or utilized unemployment.
Nearly a quarter (23%) either didn't have health insurance when the outbreak started and still don't (16%) or have lost health insurance in recent weeks (7%).
Among low-income people of color in New York City, the survey found:
69% of Hispanic low-income respondents are feeling less secure about money as a result of the pandemic.
More than half (52%) of Hispanic low-income respondents report being laid off since the outbreak began. Another 14% indicated a layoff is likely.
38% of black low-income respondents have applied for or utilized SNAP in the last month, and 22% have benefited from food pantries or soup kitchens.
Most (84%) Asian low-income respondents are worried about paying for medical costs.
"Health disparities among low-income New Yorkers and communities of color are a chief concern under normal circumstances, and now, COVID-19 is making the sick sicker and the poor poorer," said Lisa David, President and CEO of Public Health Solutions. "We knew that coronavirus was disproportionately infecting low-income communities and people of color, but what we're seeing here is that these New Yorkers are facing the twin threats of serious illness and increased financial hardship. Limited resources for food, housing, and other social determinants will result in poor health. It's more important than ever that resources to help keep vulnerable individuals and families afloat are available."
Citywide data show that zip codes with lower median incomes, such as Jackson Heights, Corona, and East New York, have higher numbers of diagnosed COVID-19 cases per capita compared to wealthier areas.
The survey also examined how people that reported presumed or confirmed COVID-19 cases in their households are faring economically. Respondents with a confirmed or presumed COVID-19 diagnosis in their household were more likely than those without a diagnosis to have utilized or applied for the following programs in the last month: SNAP/food stamps (22% vs. 15%), WIC (18% vs. 5%), food pantries and soup kitchens (24% vs. 9%), and meal delivery services for homebound individuals (14% vs. 7%).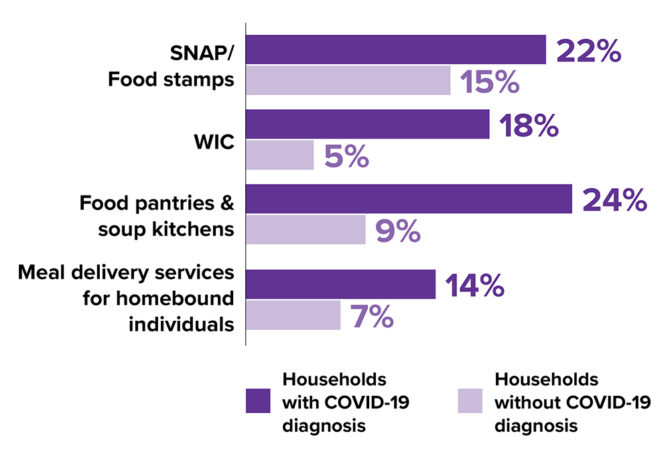 Disparities also endure among the boroughs of New York City. Across many factors, respondents from the Bronx reported more financial hardship than other boroughs. This included:
Respondents from the Bronx reported high rates of concern about their economic situation, with 81% worried about running out of money in the next month.
29% of Bronx respondents would need help paying their bills in a month if they lost their job, compared to 19% in Brooklyn, 15% in Manhattan, and 15% in Queens.
11% of people in the Bronx are panicked about getting enough food for themselves and their families, compared to 6% of all respondents.
The financial gap for many New Yorkers is so wide that the $1,200 federal stimulus check isn't sufficient to fill it. Nearly a quarter (23%) of all respondents said that the check is not enough for their immediate needs and they need more assistance now. Another quarter (26%) said they will likely need more assistance soon.
To read Public Health Solutions' Health Brief with more information and findings from the survey, please click here.
About Public Health Solutions
Health disparities among New Yorkers are large, persistent and increasing. Public Health Solutions exists to change that trajectory, and support vulnerable New Yorkers in achieving optimal health and building pathways to reach their potential. We improve health outcomes and help communities thrive by providing services directly to vulnerable low-income families, and supporting 200 community-based organizations through our long-standing public-private partnerships. We focus on a wide range of public health issues including food and nutrition, health insurance, maternal and child health, sexual and reproductive health, tobacco control, and HIV/AIDS. Public Health Solutions' Queens Healthy Start is part of the National Healthy Start Initiative, a federally funded program intended to reduce infant mortality in our highest risk communities. It serves 1,500 pregnant women annually in New York City. Visit www.healthsolutions.org to learn more.
About Kantar
Kantar is the world's leading evidence-based insights and consulting company. We have a complete, unique and rounded understanding of how people think, feel and act; globally and locally in over 90 markets. By combining the deep expertise of our people, our data resources and benchmarks, our innovative analytics and technology, we help our clients understand people and inspire growth. Visit www.kantar.com to learn more.