In early 2020, Georgina Acevedo was living in Queens with her husband, Bernaved, and their two children, Tony and Valerie. Originally from Mexico, Georgina came to the United States in 2003 with her husband. They had big dreams of raising family and worked hard to provide food, a safe home and education for their children. It was a quiet and happy life.
But in March 2020, COVID-19 struck. New York City became the epicenter of the pandemic, and thousands of New Yorkers, including Bernaved, lost their lives. The sudden loss of her husband left Georgina and her two children devastated. "Why [did this happen to] my husband, the father of my children whom I love so much and need," Georgina despaired. "I'm alone."
As COVID-19 continued to rage through the city, another hardship came Georgina's way – she lost her job as a cleaning lady. Soon after, she began to feel unwell, suffering from dizziness and headaches. A visit to her primary care doctor for a COVID-19 test revealed a surprise. Georgina was expecting her third child.
"I was sent a miracle of love," Georgina recalled.
A social worker at Elmhurst Hospital referred Georgina to Public Health Solutions' (PHS') home visiting program called CoMadres. Through its partnerships with community health organizations across the five boroughs, PHS takes a unique, client-centered approach to public health by connecting vulnerable New Yorkers to a range of services and resources that can address their individual health, social, economic, and emotional needs. The CoMadres program supports women and their families in Queens before, during, and after pregnancy by connecting them with community health workers (CHWs) who offer education and advocacy on reproductive health and refer clients to a host of community resources so that mothers and their families are supported across all aspects of their lives during the pregnancy and postpartum periods.
"When I met Georgina, she was experiencing a mix of emotions: happiness about her pregnancy and sadness that she could not share the joy with her husband," says Ana Peralta, the CoMadres CHW who got in touch with Georgina.
Ana assessed Georgina's needs across all areas of her life and set to work to ensure that Georgina had all the help she needed during and after the baby's birth. Not only did Georgina need help in navigating her pregnancy without her husband, but she was also under enormous stress about losing her job and having to support her growing family by herself.
"I wanted to make sure she was feeling stable and let her know that support was available to her."
Ana helped enroll Georgina into SNAP (food stamps) and connected her to a few neighborhood pantries. She also shared her phone number with Georgina so that she could contact her with any questions or concerns. "I wanted to make sure she was feeling stable and let her know that support was available to her," recalls Ana. Throughout Georgina's enrollment in the program, Ana contacted her frequently to check in and offer other services that she might need. Ana also helped Georgina prepare for the baby's arrival with diapers and a Pack and Play and offered to connect her with counseling services to cope with the emotional tolls of Bernaved's loss.
In addition to working with Ana, Georgina also participated in CoMadres' Hola Bebe workshop, a three-week virtual program that provides health education and community for pregnant and postpartum women. Throughout April, Georgina connected with other expectant mothers via video chat to learn important information about having a healthy pregnancy, newborn care and postpartum mother care and also share stories about her previous pregnancies. During the height of social distancing, the program offered Georgina an opportunity to build a new network of support to lean on, bound by a shared experience of motherhood.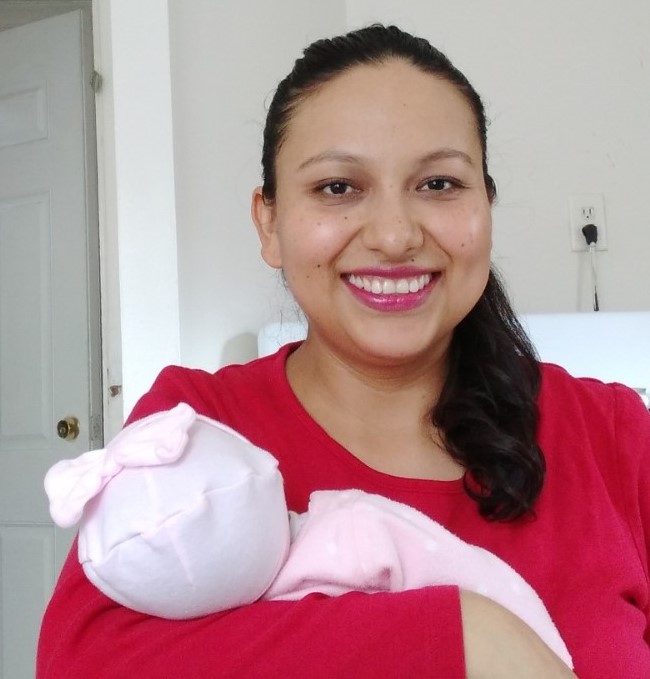 In October, Georgina gave birth to a healthy baby girl named Natalie. "I am grateful to the program and especially to my CHW who showed me that I was not alone and gave me the confidence to ask for information and assistance," she said. Georgina has also now returned to a full-time job and says she feels hopeful for the future ahead.
"They saved me."
Although Georgina is no longer part of the program, she still has her CHW's number on hand in case she has any questions or concerns in the future. "I'm lucky to have been referred to the program and be part of it. They saved me."
Low-income and single mothers have been particularly impacted by COVID-19. While facing disproportionate unemployment, many are struggling to homeschool their children, find food assistance, and provide for their families financially. Your support helps us ensure that mothers like Georgina can access essential resources and support to stay afloat. Make your contribution today.